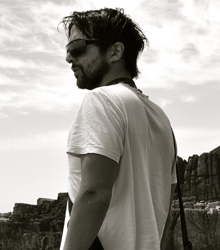 Hello, my name is Philippe Antonio A. R. Welcome to my ART gallery.
I was born in Sweden 1985, but my parents are from Chile. I grew up in Fittja, a suburb outside Stockholm. My passion for art, especially hands-free drawing and caricature began at a very young age. When I was 10, I created my first own comic-figure "Magic", which involved a condom (he was one) Hehe. At that time I hardly knew what it was. Time passed by and I soon learned Graffiti too. I fancy that it was fun to write and draw and I had a separate block intended for it. When I got older, I started to look a lot of Anime, Japanese cartoons, which I fell for, I learned some and took my knowledge a bit further. Thanks to my iPad more recently, I've learned to take my art in another direction. I do not know what to call it but i like to think that its my own style, a cool and strong style.
It has been very entertaining and instructive. I have even created my own comic series, where I gathered all my previous cartoon characters, incl. Magic and even some new ones. Together they live in a strange world and I call the comic THE COOL ONES. You can see more about that in www.Domcoola.se. (Right now they are only translated in swedish).
I also have a great passion for film/movies that is why I started this site Blackbrush with all my movieart collection. The art and drawings will include lots of the coolest and most memorable movie characters who has ever existed.
I do this

 

with passion

 

because I love

 

to draw.

 

It is a big part of who I am

,

 and it's

 allowed me to

 

relax and get

 

away from reality

 

(which

 

for the moment

 

is

 quite difficult

) and

 

get a moment

 to

 myself.

 

It's a hobby

 

I have,

 

which

 

may also

 

rejoice

 

other…

 

In

 

the beginning, these

 

paintings

 was 

meant

 

for myself.

 

But

 

after a lot of

 

good 

feedback,

 trough friends, family,

 facebook

 

and

 my other homepage 

domcoola.se,

 

I decided

 

to let

 

these 

paintings

 to be released 

in

 

limited edition quantities

. 

This is for

 

those of you who

 

have the same love and passion

 

for both film and

 

art as I do

.
// Philippe Antonio A.R